Today I went to see papal wizards do their thing in a Godcastle.
I'm something of a papist myself, but the wonder and mysticism of our rituals never fails to entertain and terrify me.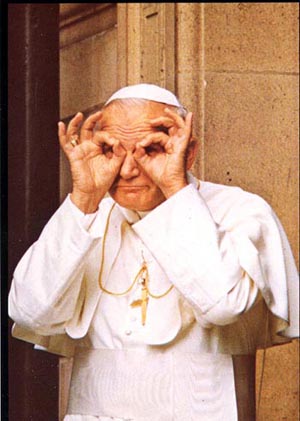 I mean, I've seen the Chronicles of Narnia, and everything, and there's no wizard out there that can hold a candle to a crowd of chanting Catho-sorcerers. I left the ritual feeling as strong as I have ever since I was first plunged into that steaming bowl of holy water (which I happen to have on video).
*
*This photograph is not, in fact, one of the many taken at my baptism. It is a public domain image of a native Hawaiian hunting for tidal babies. The hungry look on his face was nowhere to be seen at the removal of my original sin, although the rest of the picture captures the general feeling pretty accurately.